I've linked up with KTP's blog series on using centers in your classroom. What a great topic! I can't think of one teacher I know who doesn't use centers in some form or another. In fact, chances are pretty good that you're required to have your students working in centers during guided reading time. But if your district is anything like mine, no one has actually showed you how to make centers run smoothly. It's one of the hardest parts of managing a classroom full of little people.
I use centers during reading and math. For reading, I follow the Daily 5 structure and I don't think I'll ever go back to my old way ever again. Daily 5 eliminates a lot of planning because the students go the the same five centers every week and most of them run themselves. The centers consists of:
Read to Self
Read to Someone
Work on Writing
Work on Words
Listen to Reading
I won't spend a lot of time describing Daily 5 because the best source of this information is from The Two Sisters themselves. You can find their site right here:
Daily Cafe
. I highly recommend both of their books! My principal actually bought them for the entire faculty so we could have a school-wide book study. How awesome is that?!!
Now what about math? I think students get the best practice during centers. They work cooperatively to solve problems, share strategies, and help each other when they get stuck. We don't do math centers every day. Usually, it's two or three times per week; whenever I need to work with small groups or individual students. My students have four centers to choose from...
Task cards
Games
Computer
Write about Math
At the
task cards
centers, the kids can choose any bag of task cards that I have put in the basket. They can work together or individually. I always include recording sheets, answer keys, and red pens for checking each others' work. The kids LOVE to grade each other!
Games, of course, is the students' favorite center. There are so many free game ideas online that you really don't need to spend any money. A good supply of dice and playing cards are a must-have. Here is a great site with math games using dice and cards (just click on the picture)...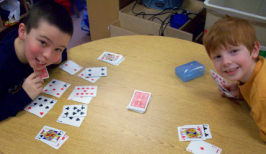 For the computer centers, we use
Scootpad
. It's a free web-based program for both reading and math that is Common Core aligned. The kids earn coins every time they practice that can be traded in for rewards that you set up. My students love earning extra recess, lunch in the classroom, and treats from the candy jar. Another really cool feature is that they can use it at home and parents can add rewards for their kids to earn too! Scootpad is definitely worth checking out...
I think my most important center is Write About Math. Here, students create their own problems based on whatever skill we are currently learning. This center has chart paper, scrap paper, manipulatives, and pencils. The kids work with a partner to create their own problems. They must test their problem out and show how to work out the answer on the back of the chart paper. Each week I choose the best problems to share during our Morning Math Meeting. The kids love to get picked for this! This center really develops their critical thinking and problem solving skills.
So those are my math centers. I don't have a set rotation for them but when it's time for centers, I pick the best behaved kids to choose their center first. Once everyone has made a choice, they start working while I call kids to the table to work with me. Depending on how much time we have that day, they usually get to rotate once or twice. The important thing when implementing math centers is to teach your procedures thoroughly and review them often. It can be rather noisy but it should be good noise full of math talk. That kind of noise is music to my ears!